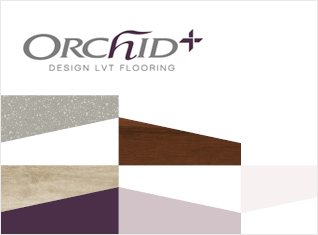 Rediscover Orchid Style

On a mission to offer Orchid Style, the most stylish and eco-friendly flooring, we present new ORCHID+ design LVT flooring,
50 of our latest and finest designs featuring Wood, Stone and Design lines.
EPT™ Shield

Safe and strong 2-fold LVT surface coating technology
Anti-bacterial coating with superior
scratch-resistance

EMT™ Core

Stable and eco-friendly LVT core technology
Unique multi-layer structure with supreme
dimensional stability
Download Brochure

Difference
EPT™ Shield & EMT™ Core Technology

NOX Corporation, one of the world-largest LVT manufacturers, traces its roots to chemical engineering with expertise in core components of LVT flooring for more than 50 years. Its NOX EPT™ Shield & EMT™ Core technologies are the foundation of ORCHID+ innovation, providing the most stable and eco-friendly products.

EPT™ Shield

⋅ Safe and strong 2-fold LVT surface shield technology
⋅ PU or Ceramic PU coating treatment [Anti-Bacterial] without
using Nano-silver [controversial to be harmful for human health]
⋅ Clear design protection layer

EMT™ Core-5D

⋅ Stable and eco-friendly LVT core technology
⋅ 5-layered EMT™ Core structure for long-term dimensional stability
Additional Features
Diverse design and technical features are available upon request
Surface Embossing

ORCHID+ with 9 different surface embossing textures including natural Embossed-In-Register

I-03 Sand structure

I-14 Wood structure

I-17 Natural wood structure

I-19 Rustic wood structure

I-22 Wood structure

I-25 Wood structure

I-34 Stone structure

I-35 Design wood structure

I-37 Fabric structure

Edge Type

ORCHID+ can be supplied in 3 types of edges according to your request

Round Edge

Bevel Edge

Square Edge

Continuous EIR (Embossed-In-Register)

The first & only 'Continuous EIR (Embossed-ln-Register)' Technology
Technical Information
Specifications
Installation Guideline
Maintenance
Test Result
technical information table
Brand
Thickness [mm]
Wear Layer
Size [mm]
Pcs/Box
Sqm/Box
ORCHID+
2.5
0.20mm
/0.55mm
/0.70mm
186 x 940
19
3.32
180 x 1,200
15
3.24
304.8 x 609.6 [12" x 24"]
18
3.34
152.4 x 914.4 [6" x 36"]
24
3.34
457.2 x 457.2 [18" x 18"]
16
3.34
457.2 x 914.4 [18" x 36"]
10
4.18
600 x 600
12
4.32
Prior to installation, the subfloor must be heated for 14 days if heating is available, and if not, allow sufficient time to dry out completely.
Room temperature must be maintained at 18˚C or higher before and during installation.
The flooring must be allowed to acclimate in the room to be installed for a minimum of 24 hours and be stacked flat on the floor to avoid bending the floor.
Prior to installation, please ensure that both color and lot# are the same.
When installing ORCHID+, be sure to keep dust, dirt or foreign particles away from the locking strip.
Regularly sweep floor to remove sand and grit that can scratch floor.
For best results, use only water with a mop. Avoid flooding the floor with too much water.
For heavily soiled areas, use a neutral ph balanced floor cleaner.
Use caution when lifting boxes.
Promptly remove any standing water to avoid slippage.
Keep ORCHID+ on the flat surface to keep it from warping.
technical information Test Result table
Product Specification
Standard
ECOLAY+
Surface Treatment (NOX EPT™)
ISO 22196 ASTM G21-15
Anti-Bacterial / Anti-Fungi
Level of Use
ISO 10874
0.20mm: 22+
0.55mm: 23, 33, 42
0.70mm: 23, 34, 43
Total Thickness
ISO 24346
+0.13mm / -0.10mm
Wearlayer Thickness
ISO 24340
+13% / - 10%
Weight (g/m2)
ISO 23997
+13% / - 10%
Dimensional stability & Curling after exposure to heat
ISO 23999
≤0.10%
≤2.0mm
Abrasion group
EN 660-2
Class T
Castor Chair resistance
ISO 4918
No damage
Squareness & Straightness
ISO 24342
≤400mm : ≤0.25mm
>400mm : ≤0.35mm
ASTM F2055
≤0.01in
Residual Indentation
ISO 24343-1
≤0.1mm
Static Load Limit
ASTM F970
≤0.005 in @ 250psi min
Light Fastness
ISO 105-B02
≥ 6
Slip resistance
EN 13893
DS
DIN 51130
R10
Resistance to Chemicals
ISO 26987
No defects
Thermal Resistance
EN 12667
0.017 (m2K/W)
Fire Resistance
EN 13501-1
Bfl-s1
Body Voltage
EN 1815
2kV
Peel Resistance
ISO 24345
More than 60N/50mm
Formaldehyde Group
EN 717-1
E1
VOC Emissions
IAC GOLD CERTIFIED / FLOOR SCORE CERTIFIED
Very low VOC